Friday March 20th, 2015
ONE DAY INTERDISCIPLINARY CONFERENCE "The Performer in the 21st century"
ONE DAY INTERDISCIPLINARY CONFERENCE
"The Performer in the 21st century"
The Hellenic Centre of The International Theatre Institute organizes the interdisciplinary one-day conference entitled «The Performer in the 21st century» that will take place on the 30th of March 2015 at Michael Cacoyannis Foundation (206 Piraeus st) from 10.00am until 18.00pm.
«The Performer in the 21st century» is an international conference, involving collaboration across universities, fine art schools artists, performers, art companies, and scientific institutes. The lectures employ structural affinities between theatre, performance and installation art, new and hybrid media, the visual arts, choreographic research so as to explore the shifting role of the performer in the 21st century.
This peer‐reviewed conference will bring together international researchers and practitioners in fields including performance, visual arts, theatre, neuroscience, bioart, architecture and dance so as to reconsider the role of the performer in the 21st century. The enduring presence of the performer on the stage, the arts and the public sphere will be examined with regard to contemporary aesthetic, technological and scientific approaches.
The conference will examine the role of the performer in the expanded field of art practice in which performance, architecture and the objects, it contains, are fluid in use and meaning, shifting between levels of significance, spatiality and textuality. The delegates will reconsider the role of the performer in the 21st century so as to examine new modes of representation, new dramaturgical strategies, new ways of creating temporal and spatial interrelations.
At present some of the most vigorous works of performance art are being produced not in the rehearsal room or the exhibition space but outdoors in the public sphere, where artists probe cultural, philosophical, and artistic questions connected with cutting‐edge artistic and technological research. Their work ranges across disciplines, the physical sciences, information technologies, human biology‐living systems, neuroscience and kinetics.
The overall aim of the conference is to overview the ways in which contemporary performers draw on technological and artistic developments to explore new forms of creative expression and to unfold the wide range of disciplines, genres, theoretical, and artistic positions that comprise the relationships between performer and spectator in contemporary performance.
The organization of the conference «O Performer in the 21st century», takes place in the context of the project "From practicing to theorizing the Performing Arts" and specifically the organization of the international programme for the Performing Arts entitled Staging Invisibility, in the context of the Operational programme «Attica» NSRF 2007-2013 co-funded by Greece and the European Union.
Where & When:
Michael Cacoyannis Foundation, 206 Piraeus st, Tavros, Athens
30th of March 10.00-18.00
Program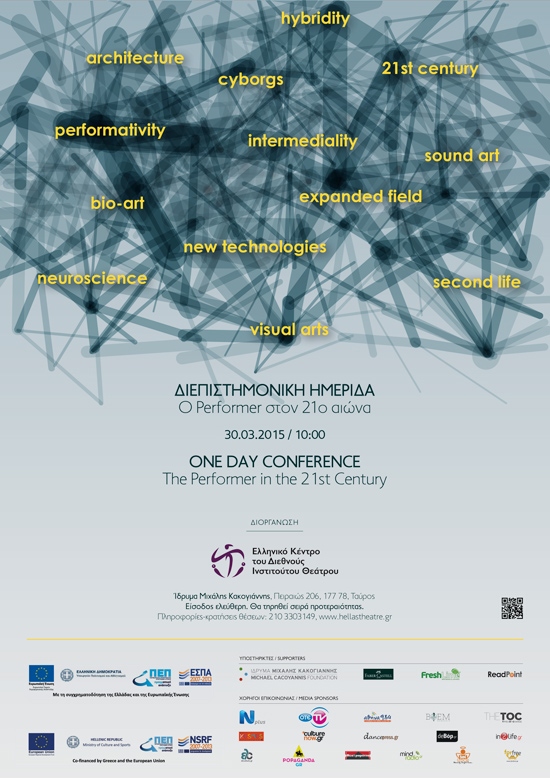 Free admission with priority.
Info & Reservations
Hellenic Centre of the International Theatre Institute
T: +30 210 3303149
E: , W: www.hellastheatre.gr, www.athensystem.gr
SUPPORTERS
---
MEDIA SPONSORS
---